Rediscover Your Smile
We offer All-on-4® dental implants in Garden City, New York, as one of our specialty services here at Designer Smiles Dentistry in order to help our patients. If you are missing entire arches of your teeth, you can get your smile back with this advanced treatment. All you need to do is schedule an appointment with our dentist. Contact us today at 516-280-4020 and we will get you in to see Dr. Wayne W. Hsieh who can determine if All-on-4 is an option for you.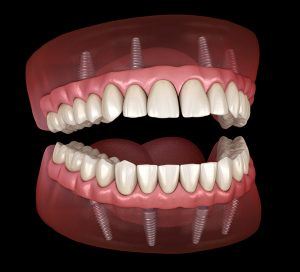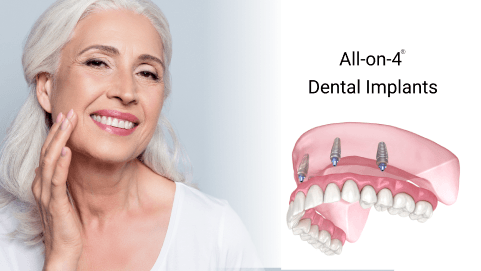 Simplified Restorations
The All-on-4 method was determined to be an effective treatment method by Dr. Paulo Maló in the 1990s. This method simplifies implant treatments by using four dental implants to support a full fixed bridge. Each individual implant is a small titanium screw that is inserted into the jawbone during a minor surgery and then a bridge is attached to the top. This means that you do not need an implant for each tooth you are missing.
The implants are made from titanium because of its biocompatible qualities. The titanium screws are able to effectively integrate with your jawbone and even help it to remain strong despite you missing teeth. Implants do this by helping to stimulate the jawbone thereby preventing the reabsorption of calcium.
Choosing between All on 4 and All On 6
Depending on how many teeth and root you have left will dictate what type of All-on solution is right for you. Typically patients that are missing most of their top of bottom teeth get All On 4 dental implants , and those who have the right teeth or tooth roots remaining are better candidates for All On 6 implants.
The decision, however, is more complicated than just how many teeth you have left. For example, an All On 6 method requires more bone and more bone strength than an All-on-4, but six implants better distribute the pressure between points when the jawbone is lacking in density or quantity. Therefore, it's always a good idea to schedule a consultation with a dental specialist to be sure you are getting the right preparation.
At Designer Smiles Dentistry, we will take photos, x-rays, and impressions to determine the best placement. Among other factors, Dr. Hsieh will measure bone density and quality, as well as the shape and protrusion of your sinus cavity to ensure the titanium rods will fit properly. After these steps have been completed you can move on to the procedure.
Is All-On-4 Right for You?
The best and most certain way to know if this treatment method is right for you is to come in and see our dentist for a consultation. Please contact us today to schedule or to ask any questions you may have. We are always happy to answer questions.