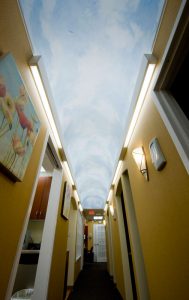 At Designer Smiles Dentistry, we strive to provide you with a dental experience like no other. Our team is committed to fostering a comfortable environment at our office, where you can feel relaxed and taken care of. Dr. Wayne W. Hsieh and his team are here to care for you and your smile, and we want you to feel at home at our boutique practice.
We never double book, so you can be certain that you are the center of our focus. In addition, when you visit Designer Smiles Dentistry, you can rest assured that you will always receive the quality, one-on-one time with Dr. Wayne W. Hsieh that you need. We never rush you, and we want you to feel comfortable asking any questions or addressing any concerns you might have about your oral health or your dental care. Our top priorities are always your comfort and health.
If you suffer from dental anxiety or even just feel a bit nervous about going to the dentist, there is no need to worry – our team is experienced in helping you feel relaxed during your visit so you can receive the high-quality care your smile needs. We even offer nitrous oxide to ensure that your experience with us is positive and relaxing. Dr. Wayne W. Hsieh is a skilled prosthodontist and is experienced in a wide range of services, so you can feel confident that your smile is in good hands. We love building personal relationships with each of our patients, and we look forward to getting to know you.
To learn more about us and our boutique dental practice in Garden City, New York, we welcome you to contact us today at 516-280-4020. We look forward to caring for you!