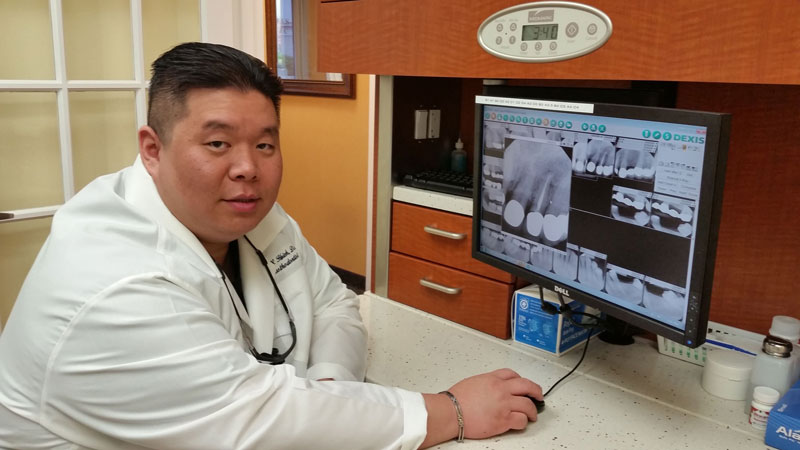 Dr. Wayne W. Hsieh has been a New Yorker all of his life. During his High School years, he attended the prestigious Bronx High School of Science. He continued his college years at New York University majoring in Psychology and minoring in Chemistry.
With a passion for science and art, he pursued dentistry and graduated from New York University College of Dentistry with a Doctor of Dental Surgery degree in 2002. Due to his excellent clinical ability, many of his mentors advised him to pursue the specialty of Prosthodontics. After three years of advanced training in prosthodontics at the University of Medicine and Dentistry of New Jersey, currently know as Rutgers College of Dentistry, he earned a specialty certificate in Prosthodontics. He returned to New York University for an additional two years, obtaining a unique level of specialty training as a Fellow in the Postgraduate Implant Surgical Program, in the Department of Periodontics and Implant Dentistry.
He was a former attending at New York Hospital Medical Center Queens in the Department of Prosthodontics, where he teaches postgraduate residents Prosthodontics and Implant dentistry. Currently, he is an Adjunct Clinical Assistant Professor at NYU in the Department of Prosthodontics.
After several years in private practice in Manhattan and on Long Island, Dr. Hsieh established Designer Smiles Dentistry, a specialty practice located in Garden City, Long Island. His purpose is to provide a high level of specialized dental care to the patients of Long Island. As a prosthodontist, Dr. Hsieh endeavors to improve his patients' lives. He wants to be someone people can trust to help change their lives.
With his extensive experience and training, Dr. Hsieh is a skilled prosthodontist who is dedicated to providing the best possible dental care to his patients.
Dr. Hsieh has been practicing in Nassau County and Manhattan for over seventeen years. He is a member of numerous organizations, including the American Dental Association, American College of Prosthodontics, International Congress of Oral Implantologists, in which he is a fellow, and New York State Dental Association. He has received multiple awards for dental excellence, including:
The "Attending Clinical Excellence" award from New York Hospital Queens (2012)
"Attending of the Year" (2013)
"Attending Clinical Excellence" (2014)
TOP DENTISTS (2010-2015)
In addition, Dr. Hsieh has lectured locally and internationally in the areas of prosthodontics, implant dentistry, and general dentistry. He has co-authored multiple articles in journals such as The International Journal of Oral & Maxillofacial Implants and General Dentistry. Dr. Hsieh is happily married and has two children, a boy and a girl. When he isn't working to improve your smile, he enjoys golf and interior decorating.
---